Upgrade your Honda Accord (12-16) with the 10.1-inch Android navigation system. With a large display, efficient processor, expandable storage options, and comprehensive connectivity, this system provides a seamless and personalized in-car experience. Enjoy GPS navigation, multimedia playback, FM radio, Bluetooth connectivity, and more, all on a user-friendly interface. The system supports various audio and video formats, and the package includes the necessary USB sockets for connectivity. Stay connected and entertained on your journeys with this feature-packed navigation system.
Key Features:
10.1-inch Display: The navigation system features a large 10.1-inch display, providing a clear and immersive viewing experience for GPS navigation and multimedia playback in your Honda Accord (12-16).

Android Operating System: Powered by the Android operating system, the system offers a user-friendly interface and access to a wide range of compatible apps, allowing you to customize your in-car experience.

Efficient Processor and Memory: Equipped with a 4-core AC8227L A7 1.3 GHz processor and 1GB/2GB DDR memory, the system ensures smooth performance and efficient multitasking for seamless navigation and multimedia playback.

Expandable Storage Options: Choose between 1GB RAM + 16GB ROM or 2GB RAM + 32GB ROM configurations, providing sufficient space to store your favorite apps, music, and other media files directly on the device.

Comprehensive Connectivity: The system offers various connectivity options, including FM/RDS radio for entertainment, Bluetooth for hands-free calling and audio streaming, Wi-Fi for internet connectivity, and support for DVR. It also supports multiple video and audio inputs and outputs, as well as USB expansion for connecting external devices.
Specification:
System: Android
Processor: 4-core AC8227L A7 1.3 GHz
Memory: 1GB/2GB DDR
Storage: 1+16G/2+32G
Display Resolution: 1024600, 1280480, 7681024, 8001280, 1280*720
Radio: FM/RDS
Satellite Navigation System: MT6625 GPS
TFT driver chip: AC8227L
Sound Effect: 2313 (16EQ)
Reverse: CVBS line by line
Power Amplifier: 7388
Bluetooth: MT6625 Bluetooth 4.0
WiFi: MT6625
DVR Support
Video Input: Supports 2 inputs
Audio Input: Supported
Video Output: Supported
Audio Output: Left, Right, Subwoofer
USB Sockets: USB1, USB2
USB Expansion: Supports 2TB hard drive
Audio Formats: MP3, WMA, AAC, RM, FALC, WAV
Video Formats: MPEG-1/2/4, H264, H263, VC1, RV, RMVB, DivX, Sorenson SparK, Spark, VP8, AVS Stream
Photo Format: JPG/BMP/JPEG/GIF/PNG
Radio Frequency: FM 76.0MHz-108.0MHz
Voltage: Vcc_3.3V
Protocol: IEEE802.11B/g/n compatible with WLAN
USB Type: USB2.0
Working Temperature: -30~80℃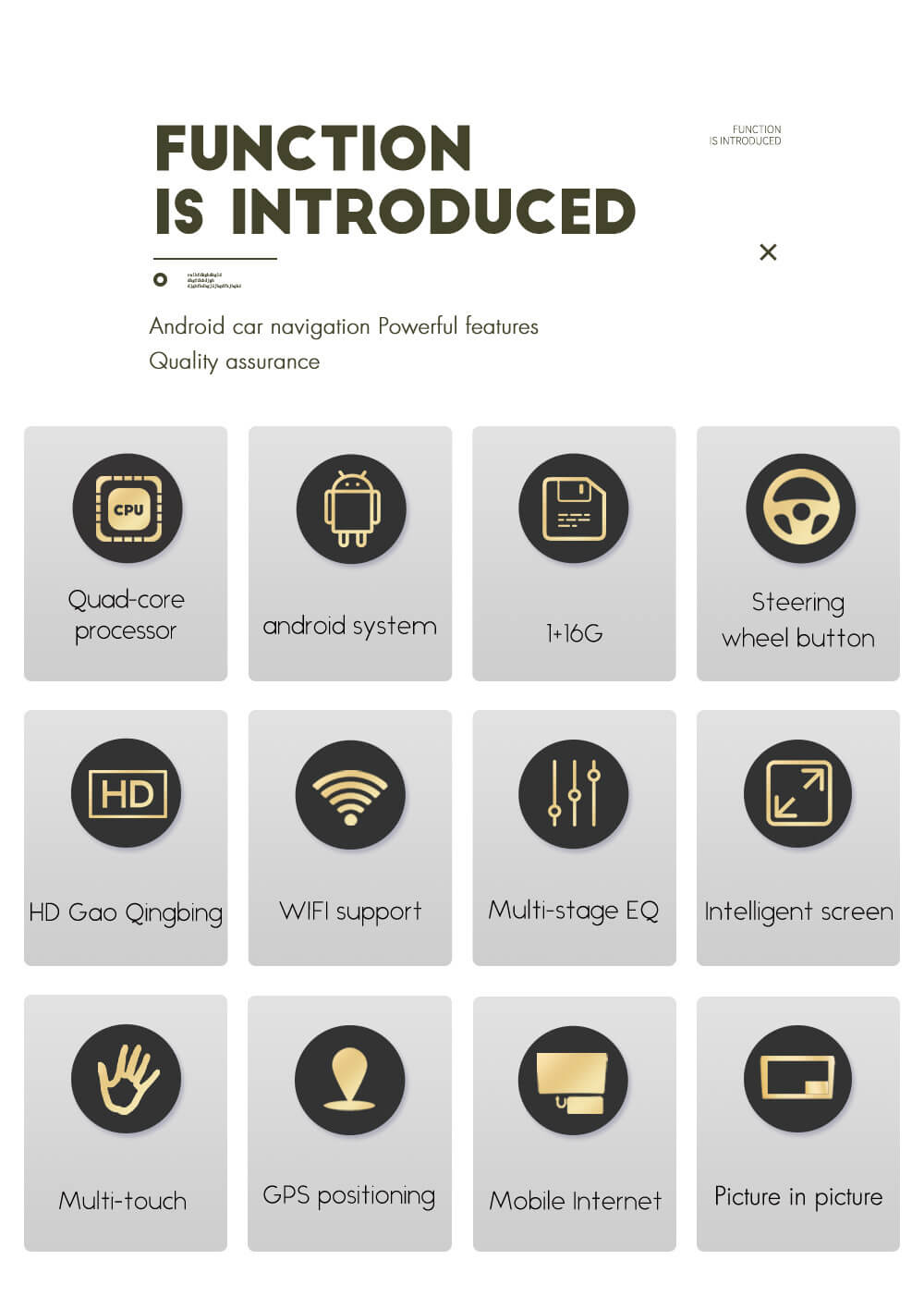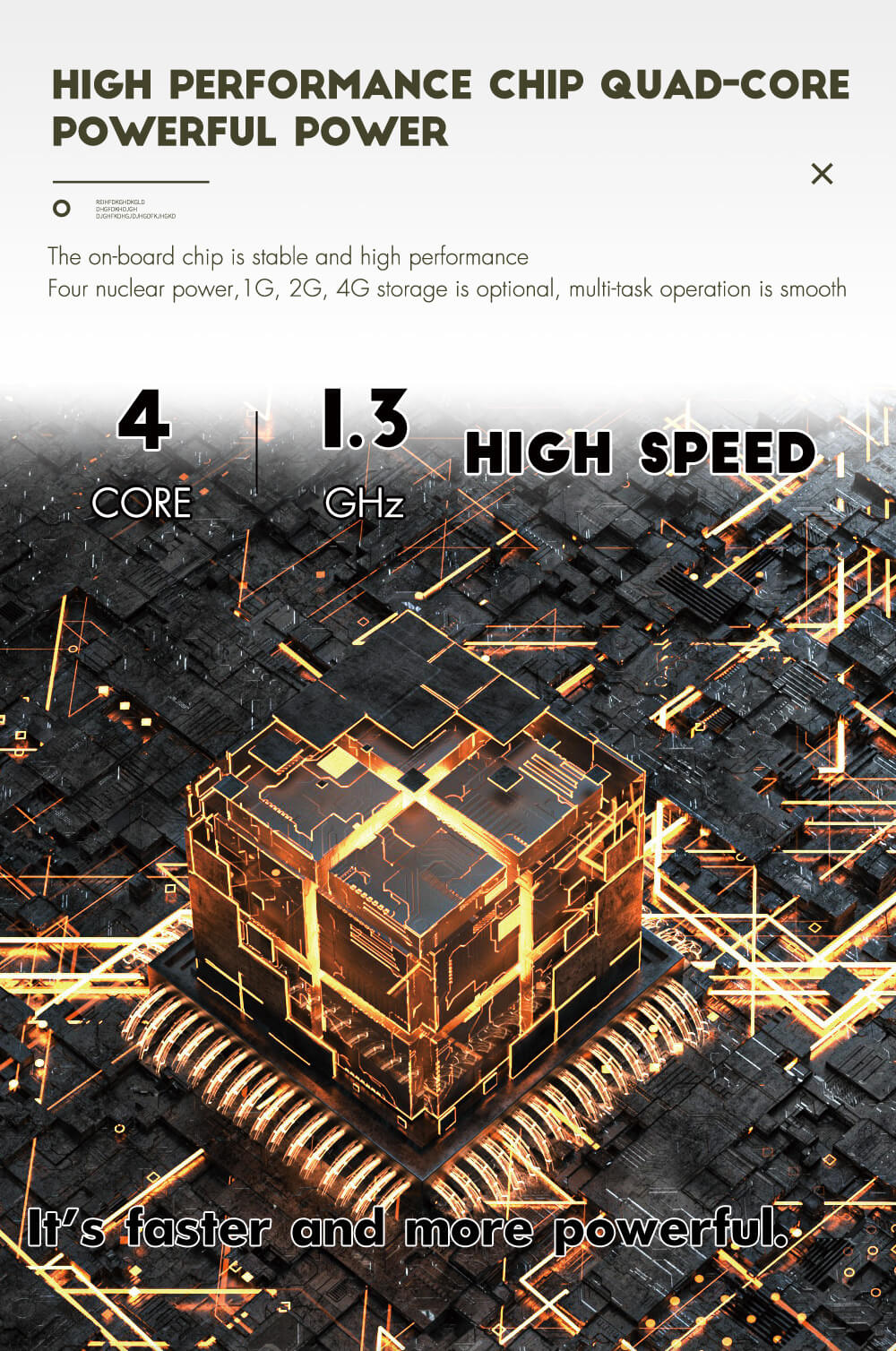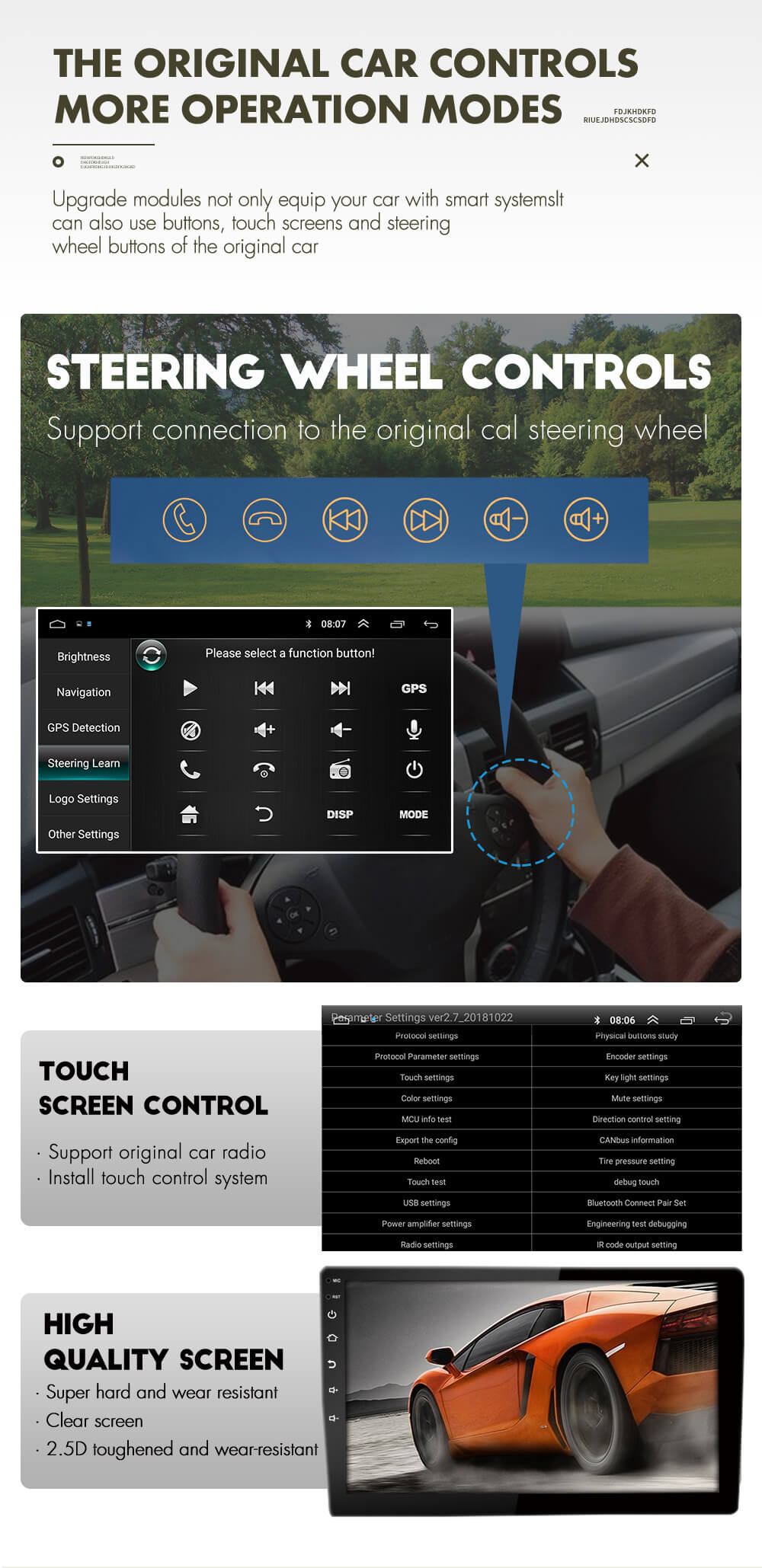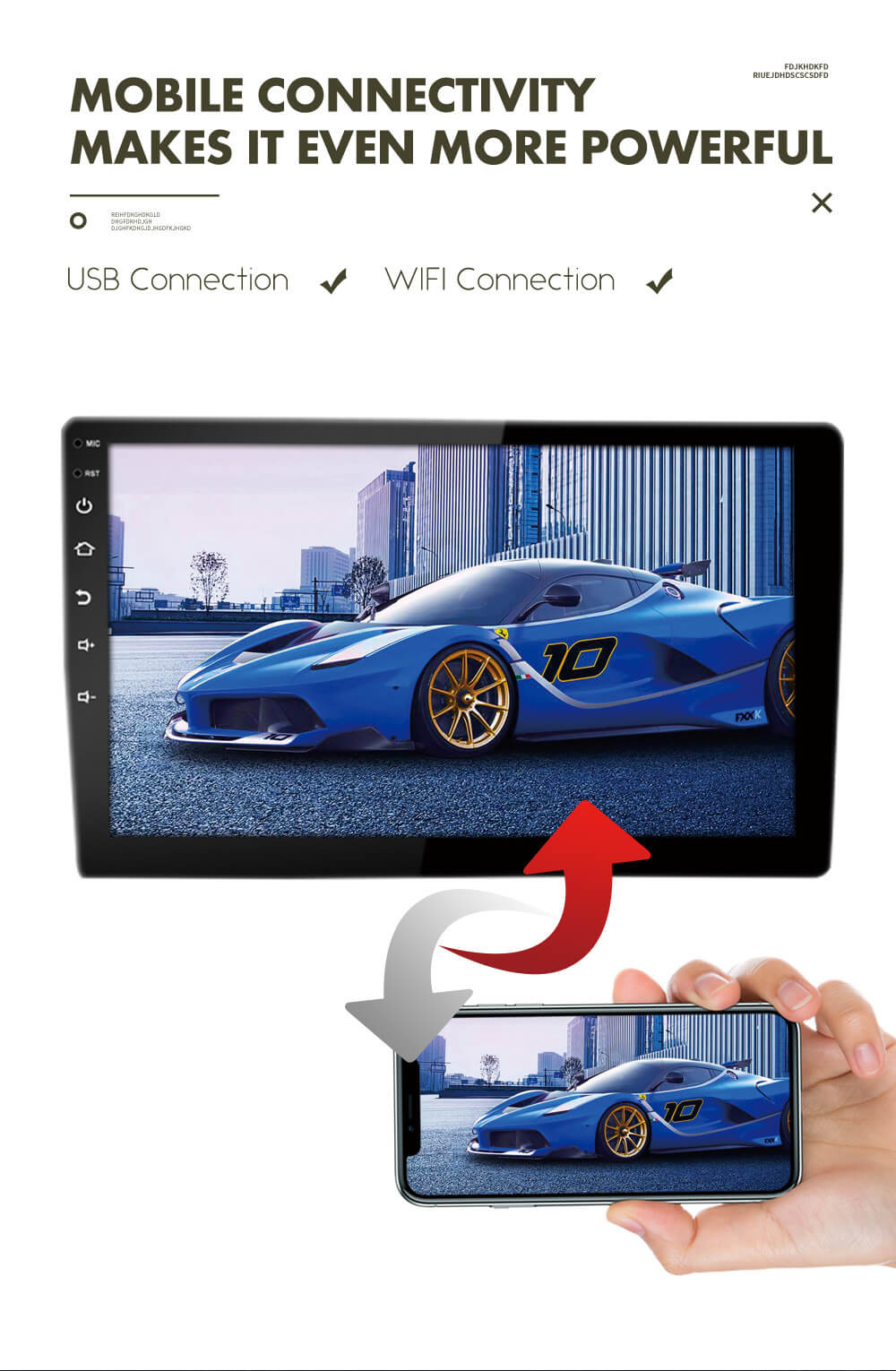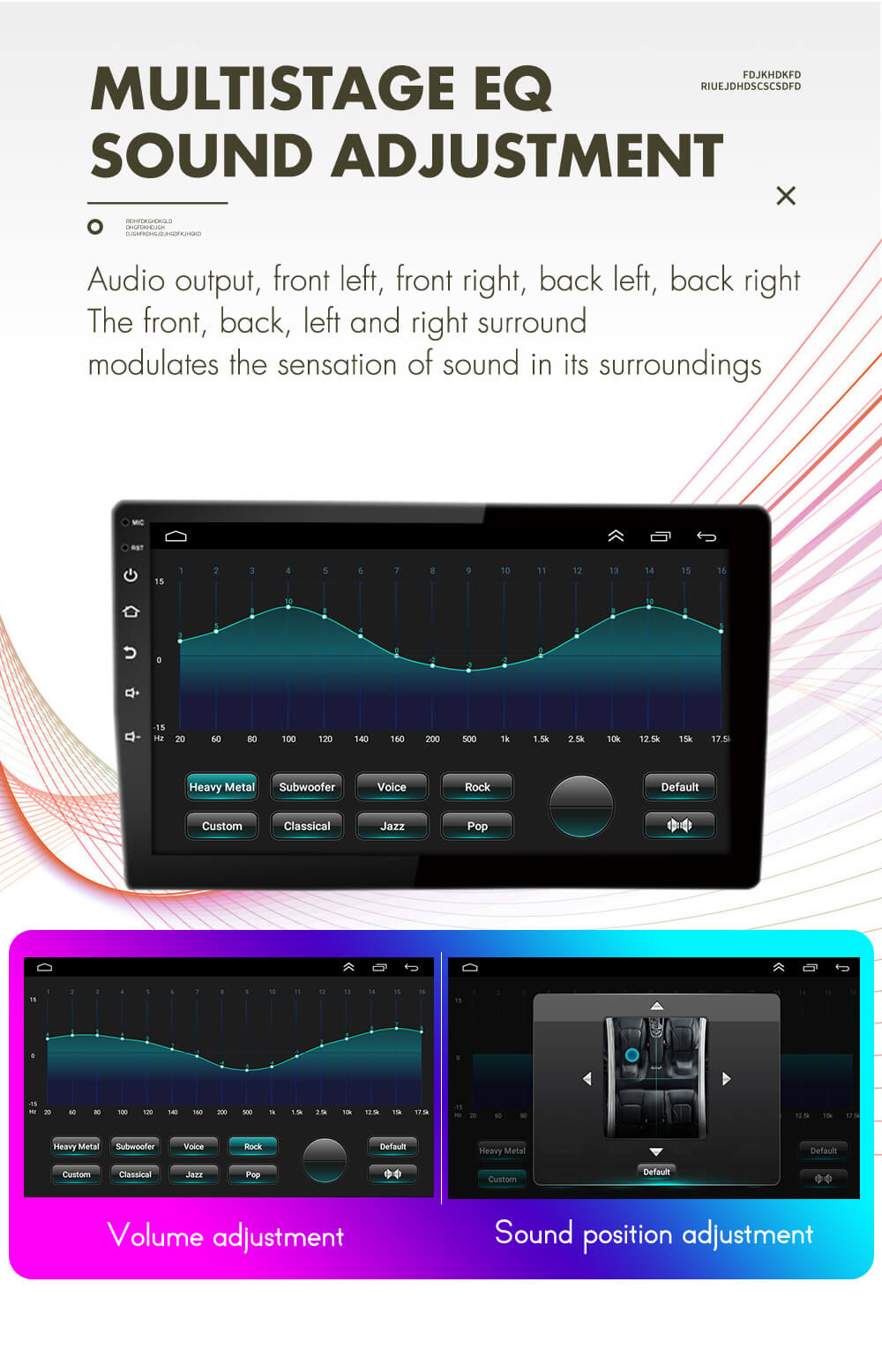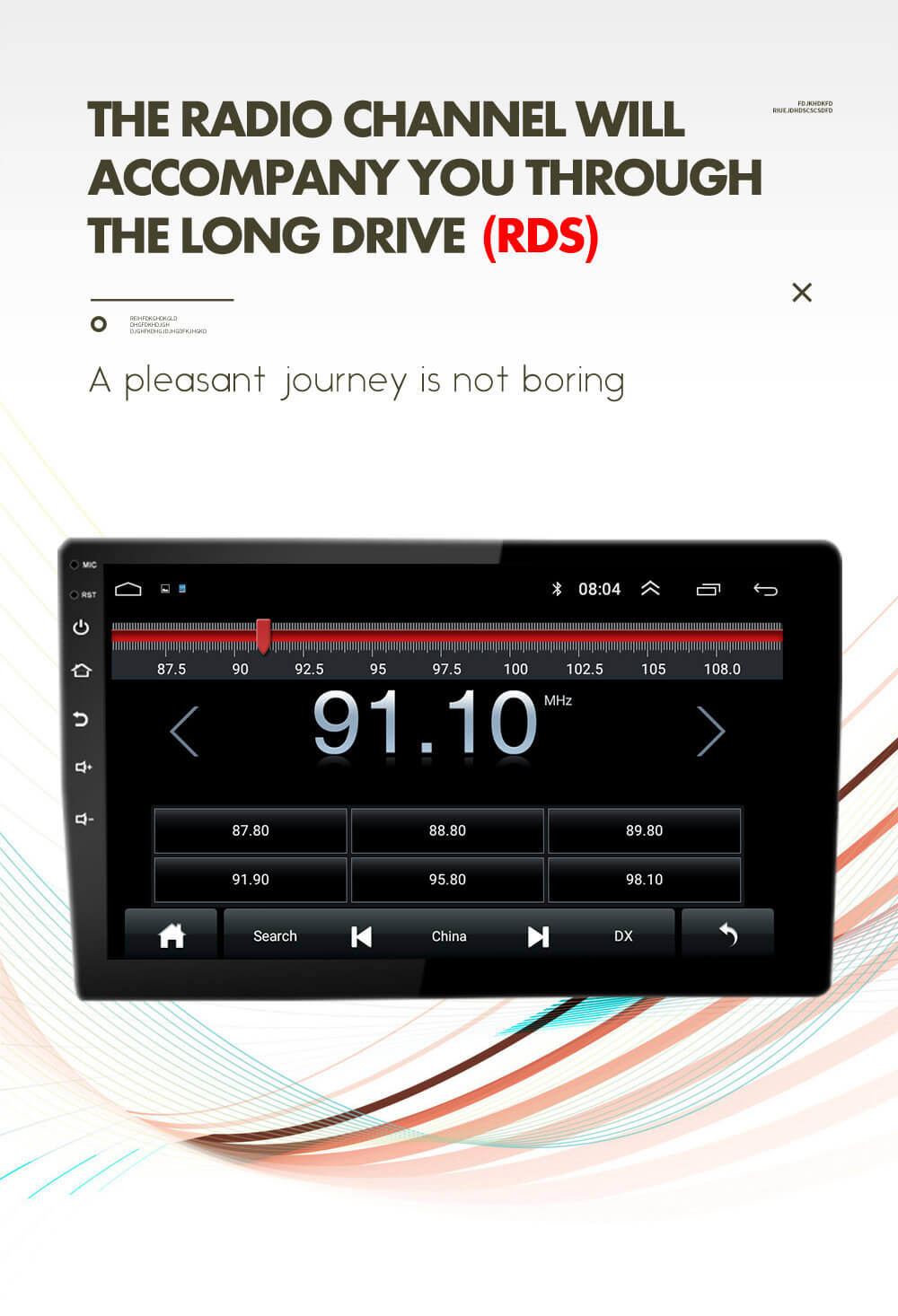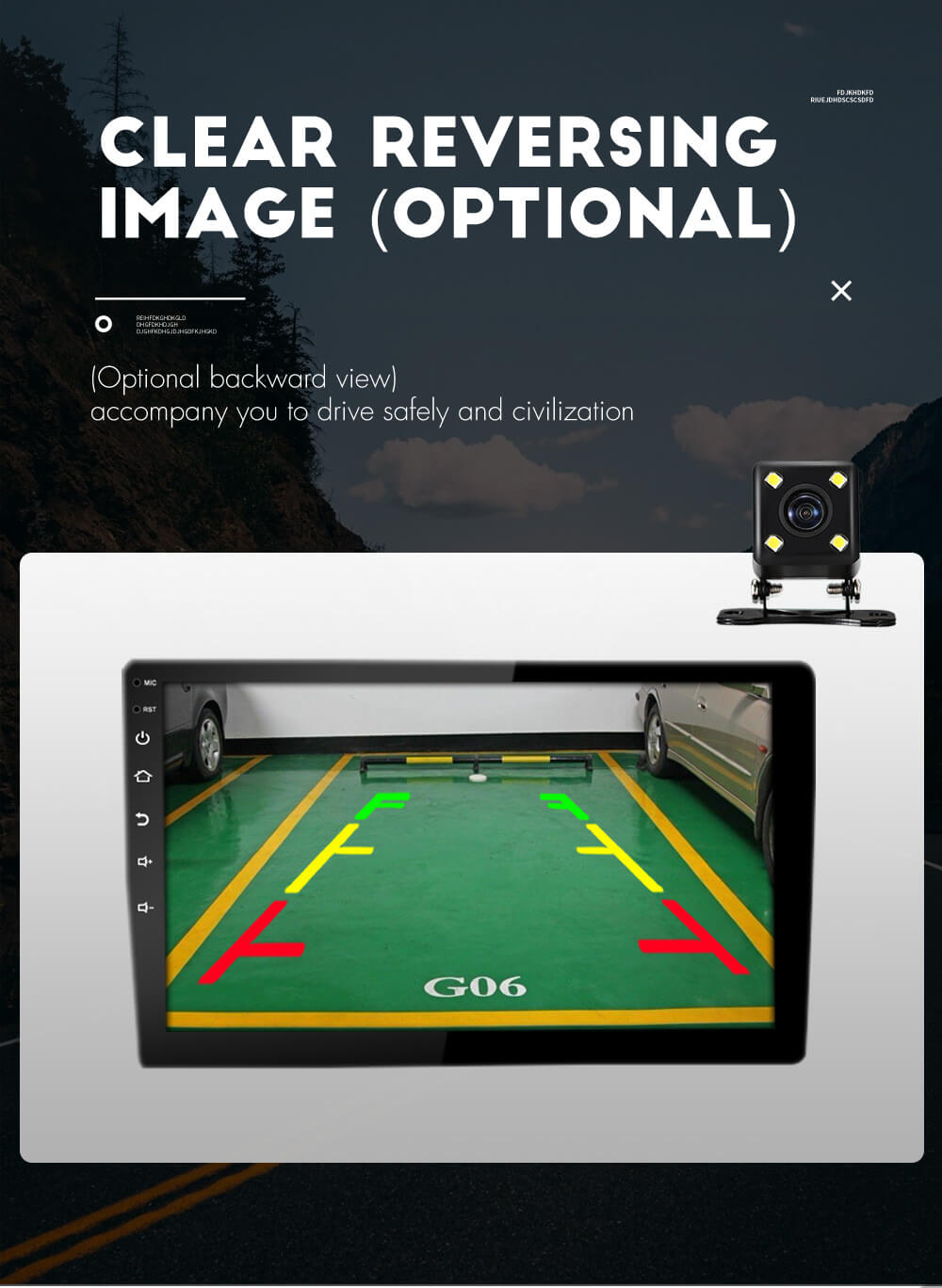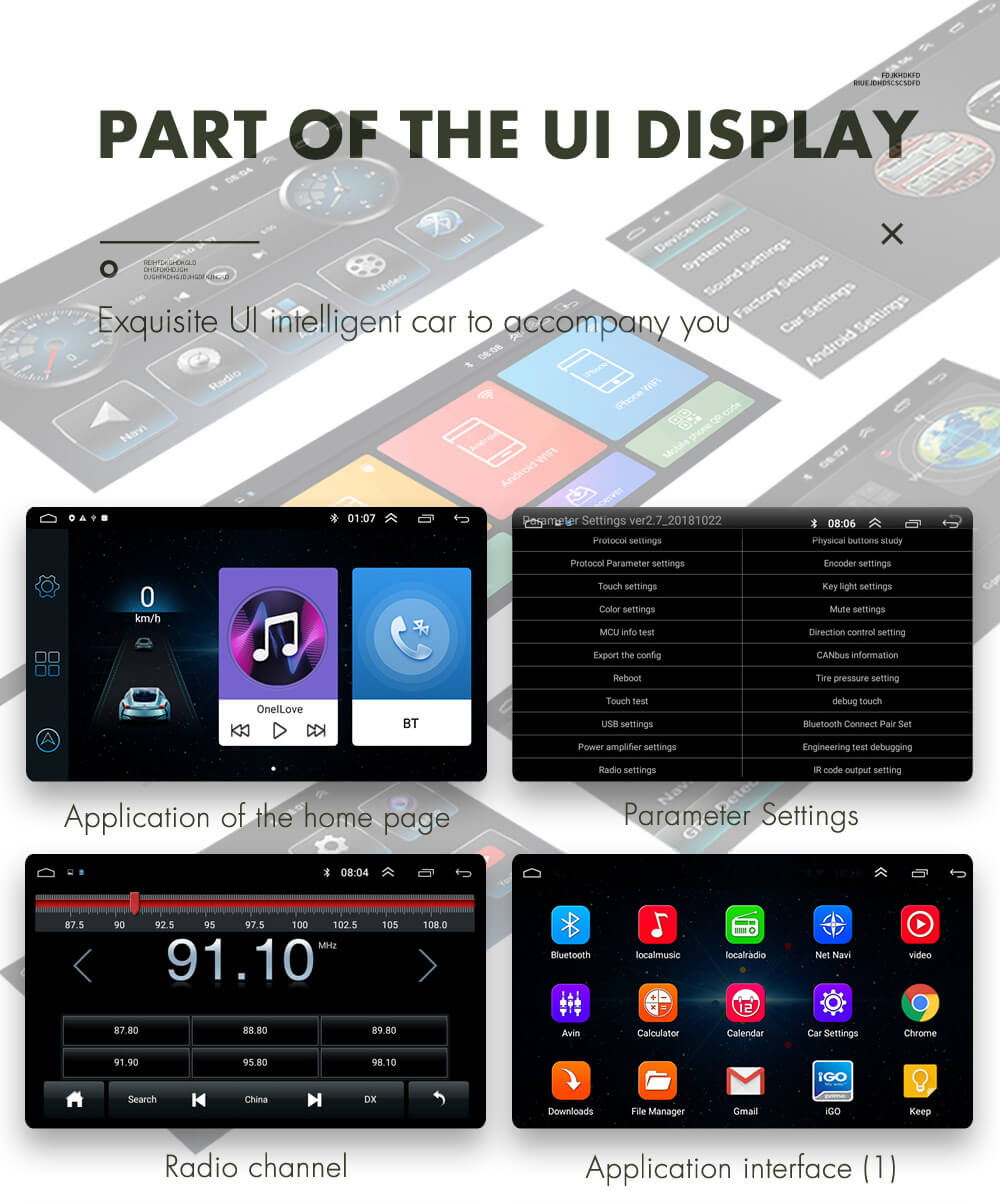 Satisfaction Guarantee
1.30-Day Money Back Guarantee.
2.Secure payment with PayPal & Credit Card
3.Free Shipping with Tracking for every order.