Specification:
CPU:JieLI 5701
Camera:AHD720P x4pcs
Camera angel:120 degree
Video resolution:1280x720 
TF card: Max support to 128G.
Power supply:9-36V
Monitor size:11.26inch HD screen 1440x1920
Feature:

1. The power supply of the camera is a wide voltage 9V-36V input, which is suitable for the installation and use of buses,mini buses and car
2. Connect the +/- wire of the power supply to the power line on the original car, Connect ACC wire to the power switch line. and use the switch to turn on/off the camera
3. The monitoring supports four-split and single-screen mode, which is convenient and quick to view the scene.
5. Three reversing ACC control lines, which can respond to vehicle actions such as reverse, left turn, right turn, etc. Quickly switch to the corresponding action control screen, and quickly connect to the road vehicle, when the flash is turned on, the screen can be displayed left and right!
6. The camera supports TF memory card for storing video files
7. The recording protocol file is H.264 video decoding and decoding, and the file format is MOV, which can be viewed by any player on the computer
8.4-way general aviation plug, 5V self-powered, with camera protection function, and camera power supply!
9. The camera has its own super powerful processor, which can work for a long time, the camera will not die, and the camera will not be stuck.
10. The mixed signal input corresponding to the video signal supports the parameter setting in the menu, which can be used after saving.
11. The video TF card needs to use a high-speed card with a 10-speed 80MB/S or higher, and a normal video storage file, which supports a 128G card!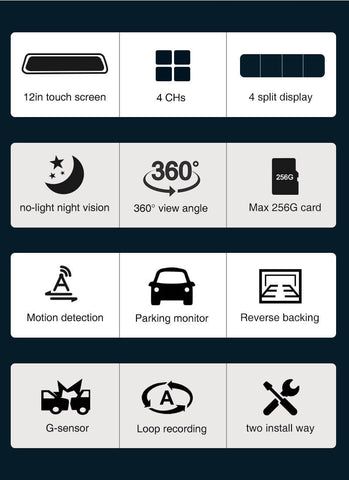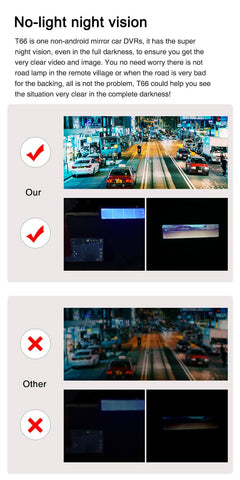 Satisfaction Guarantee
1.30-Day Money Back Guarantee.
2.Secure payment with PayPal & Credit Card
3.Free Shipping with Tracking for every order.