Features:

1 GPS+ 7-inch capacity screen +8Gmemory+256MBRAM +Support wireless , answer the phone+ Avin jack( Support rear camera) +FM, the navigation voice and music will be directly sent to the car speaker+ 3D navigation,

2.Supportmulti-Language: Russian,English,French,Spanish,Italian,Portuguese,German,Hebrew,Dutch,Swedish,Turkish,Polish,Finnish,Lithuanian,Norwegian,Serbian,Bulgarian,Hungarian,Estonian,Indonesian,Azerbaijani,Ukrainian,Slovak,Slovenian

3 Install the latest maps. Every year wil be updated and no extra cost

4.Auto turn ON when power connected.Auto shut down when power removed

5. Provide 7 vehicle modes support, cars, trucks, bicycles, buses, ambulances, taxis and walking routes and special HGV functions.

6.Support for POSTCODE/for ADDRESS search

7.Built-in Hi-Fi speaker, with FM transmission function, navigation voice and music will be sent directly to the car speaker

8.Voice reminder speed limit and turn
Brunei Darussalam,, Indonesia, Singapore, Thailand, Philippines, India
South America(11)
Argentina, Bolivia, Brazil, Chile, Colombia, Ecuador, French Guiana, Paraguay, Peru, Uruguay, Venezuela
Europe(47)
Russia, Turkey, Sweden, Spain, Italy, Israel, Poland, Belarus, Belgium, Czech Republic, France, Germany, Greece, Ireland,
Netherlands, Norway, Switzerland, England, Ukraine, Albania, Andorra, Austria, Bosnia Herzegovina, Brunei Darussalam, Bulgaria,
Croatia, Cyprus, Denmark, Estonia, Finland, Former Yugoslav Republic of Macedonia, Gibraltar, Hungary, Latvia, Liechtenstein,
Lithuania, Luxembourg, Malta, Moldova, Monaco, Montenegro, Portugal, Romania, San Marino, Serbia, Slovakia, Slovenia
Africa(71)
Egypt, South Africa, Morocco, Swaziland, Nigeria, Mozambique, Zimbabwe, Botswana, Lesotho, Namibia, Angola, Burundi, Rwanda, Uganda, Kenya, Tanzania, Zambia, Malawi, Algeria, Angola, Benin,, Botswana, Burkina Faso, Burundi, Cameroon, Cape Verde, Central African Republic , Chad, Comoros, Côte d'Ivoire, Djibouti, Egypt, Equatorial Guinea, Eritrea, Ethiopia, Gabon, Ghana, Guinea, Guinea-Bissau, Kenya, Lesotho, Liberia, Libya, Madagascar, Malawi, Mali, Mauritania, Mauritius , Mayotte, Morocco, Mozambique, Namibia, Niger, Nigeria, Congo, Reunion, Rwanda, Senegal, Seychelles, Sierra Leone, Somalia, South Africa, Sudan, Swaziland, Tanzania, Gambia, Togo, Tunisia, Uganda, Zambia, Zimbabwe
Bahrain, Iraq, Israel, Jordan, Kuwait, Egypt, Lebanon, Morocco, Oman, Qatar, Saudi Arabia, United Arab Emirates, Yemen
Available Lanuages
Menu Lanuages
English/Arabic/Czech/Finnish/French German/Hebrew/Hungarian/Italian Polish/Portuguese Romanian/Russian Slovenian/Spanish/Thai/Ukrainian
Map Lanuage for voice interaction
Catalan Czech/Danish/German/Estonian/English/Spanish/French/Croatian/Italian/Latvian/Lithuanian/Hungarian/Dutch/Norway/Polish/Portugal/Romanian/Slovak /Slovenian/Serbia/Finland/Sweden/Turkish/Flanders/Greek/Bulgarian/Russian/Somali/Hebrew/Arabic/Thai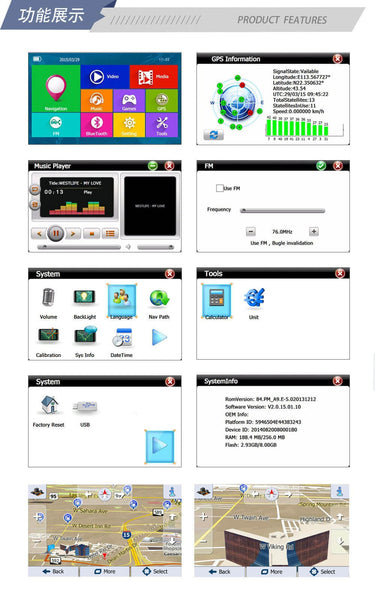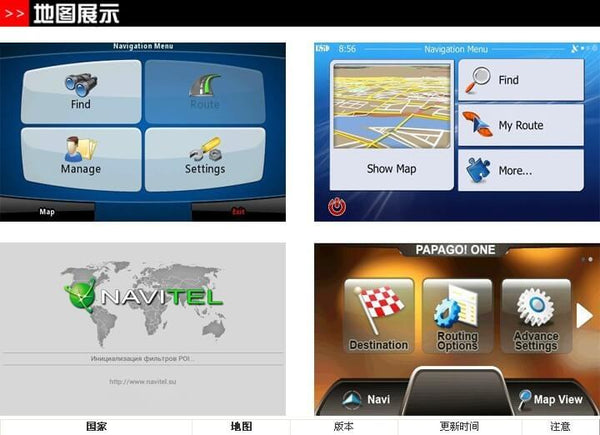 Satisfaction Guarantee
1.30-Day Money Back Guarantee.
2.Secure payment with PayPal & Credit Card
3.Free Shipping with Tracking for every order.